Emmet Prieto Webster: Zero Parecer
On view: July 30-August 8, 2021
Opening Reception: Sunday, August 1, 2-6pm
Noysky Projects presents Zero Parecer, a solo exhibition by Los Angeles-based artist Emmet Prieto Webster. The exhibition was co-organized by Level Ground in conjunction with their annual residency program, and will be on view during Felix Art Fair, just two blocks west from Noysky Projects.
Zero Parecer is a multimedia tribute to the Mexican telenovela, Rebelde, and RBD, the spin-off teen idol band — both of which gained popularity in the mid-2000s. Working outward from RBD's bubblegum pop soundscape, the exhibition explores fantasies and speculative realities of the telenovela that were germane to Mexican-American teens, while broadly relating to persistence of pop culture within our collective consciousness. "I gravitated extra hard toward a lot of telenovelas and music as a way to cope with the loss of Spanish in my household," says Prieto Webster.
The centerpiece of the exhibition is a 17-minute video collage made from found imagery, DIY videos, and clips from Rebelde that dissolve in a dreamy, pixelated pastiche. The frantic and sometimes disorienting glitch art is reminiscent of the cut-and-paste aesthetic of punk rock posters and 'zines, resulting in an unpolished future that is full of sex, neglect and aggression. Other elements in the exhibition include an outdoor vinyl banner that might be hoisted by mega-fans at a concert; wall-mounted t-shirts, jackets, and pants with airbrushed portraits of the stars in Rebelde; and a wall of CD jewel cases that are positioned like wallpaper in a series of photocopied multiples.
Zero Parecer uses the power of nostalgia and fandom to examine how we process culture, and redigests media tropes that had their moment but are still part of the popular lexicon.
Installation Images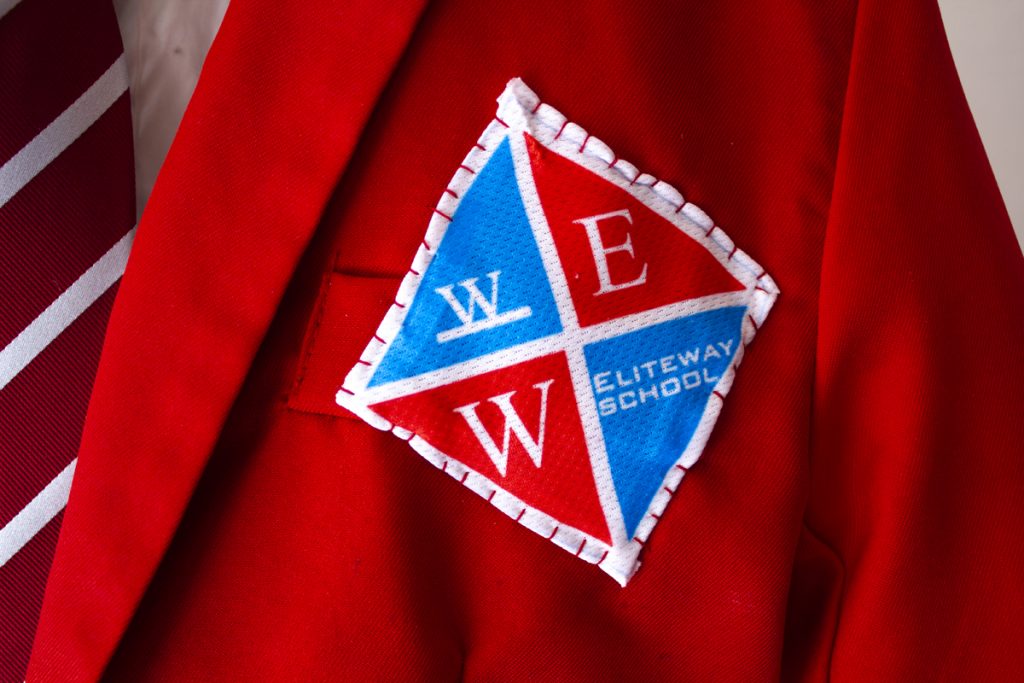 ---
Emmet Prieto Webster is a multimedia artist from Los Angeles. He began making visual art by producing CD and cassette covers in the backyard punk scene, and now uses free digital tools to make art about the interaction of subculture and identity. He studied Visual Art and Music at UC San Diego and California Institute of the Arts and is a recipient of the Level Ground 2020 Artist Residency Grant.
Level Ground is an award-winning artist collective and production incubator creating experiments in empathy. The collective is at their best when they provoke both artists and audiences in spaces that may initially cause discomfort, but are ultimately transformative. Through organizing and creating with artists, Level Ground is committed to destabilizing oppressive social structures through art-making, community building, and resource sharing.
---
More Information
On view: July 30-August 8, 2021
Opening Reception: Sunday, August 1, 2-6pm
Exhibition hours: noon–5pm
Public transportation: Red Line Metro to Hollywood/Highland. Walk 2 blocks east.
Parking: 2 hour validated parking at Hollywood & Highland Center: 1768 N. Highland Ave ($2); 1520 N. McCadden Pl ($7); or street parking in vicinity ($2 per hour); limited free street parking on McCadden Place between Hollywood Boulevard and Yucca Street, as well as Yucca Street between Highland Avenue and Las Palmas Avenue.
---
Emmet Prieto Webster: Zero Parecer
En exposición: del 30 de julio al 8 de agosto de 2021
Recepción de inauguración: Domingo, 1 de agosto de 2:00-6:00 p. m.
Noysky Projects presenta Zero Parecer, una exposición individual del artista afincado en Los Ángeles Emmet Prieto Webster. La exposición ha sido organizada en colaboración con Level Ground junto con su programa de residencia anual y podrá verse durante la Felix Art Fair, a tan solo dos manzanas al oeste de Noysky Projects.
Zero Parecer es un tributo multimedia a la telenovela mexicana Rebelde y a RBD, la banda spin-off de ídolos adolescentes, populares a mediados de la primera década del siglo. Tomando como punto de partida el paisaje sonoro del bubblegum pop de RBD, la exposición explora las fantasías y realidades especulativas de la telenovela relevantes para los jóvenes adolescentes mexicoamericanos, al tiempo que conecta en términos generales con la perseverancia de la cultura pop en nuestra conciencia colectiva. Prieto Webster nos dice que recurrió en gran medida a las telenovelas y la música como una manera de abordar la pérdida del español en su hogar.
La pieza central de la exposición es un video collage de 17 minutos de duración compuesto por imágenes encontradas, videos caseros y clips de Rebelde que se disuelven en un pastiche pixelado onírico. El arte glitch frenético y, en ocasiones, desorientador recuerda a la estética del corta y pega de los carteles y fanzines del punk rock que producen un futuro sin pulir repleto de sexo, abandono y agresión. Otros elementos de la exposición incluyen un cartel de vinilo para uso al aire libre que megafans podrían izar durante un concierto; camisetas, chaquetas y pantalones colgados en la pared con retratos pintados con aerógrafo de las estrellas de Rebelde; y una pared de cajas de CD distribuidas como si fueran papel pintado en una serie de múltiples fotocopiados.
Zero Parecer utiliza el poder de la nostalgia y la afición para examinar cómo procesamos la cultura y reasimilamos temas recurrentes de los medios que alcanzaron su popularidad en un momento determinado pero que siguen formando parte de léxico popular.
---
Más información
En exposición: del 30 de julio al 8 de agosto de 2021
Recepción de inauguración: domingo, 1 de agosto de 2:00-6:00 p. m.
Horario: 12:00-5:00 p. m.
Transporte público: Metro de la línea roja hasta Hollywood / Highland. Camine 2 cuadras hacia el este.
Estacionamiento: estacionamiento validado de 2 horas en Hollywood & Highland Center: 1768 N. Highland Ave ($ 2); 1520 N. McCadden Pl ($ 7); o estacionamiento en la calle en las cercanías ($ 2 por hora); estacionamiento gratuito limitado en la calle en McCadden Place entre Hollywood Boulevard y Yucca Street, así como en Yucca Street entre Highland Avenue y Las Palmas Avenue.