FEB. 8, 2019
Noysky Projects to Collaborate with Copenhagen-Based Collective KRÆ syndikatet in May and July
As part of Noysky Projects' continued expansion and collaboration beyond the Los Angeles area (Noysky Projects' first external show opened last summer in Southern Utah), the gallery will be hosting Danish collective KRÆ syndikatet in May 2019 for an exhibition in Los Angeles. Their upcoming show will allow directors Signe Vad and Michelle Appelros ample space for the exchange of ideas with likeminded Los Angeles-based artists.
Furthermore, KRÆ syndikatet will host Noysky Projects for Empedocles' Ghost, a group show scheduled to run from July 5-14 during Copenhagen Jazz Festival. Empedocles' Ghost will feature artists from Southern California whose work lives at the intersection of science and mysticism. A teaser for the exchange will appear in Issue 15 of Contemporary Art Review Los Angeles. More details to come.
---
DEC. 31, 2018
Let's Play War! Named One of the Most Memorable Shows of the Year by Art and Cake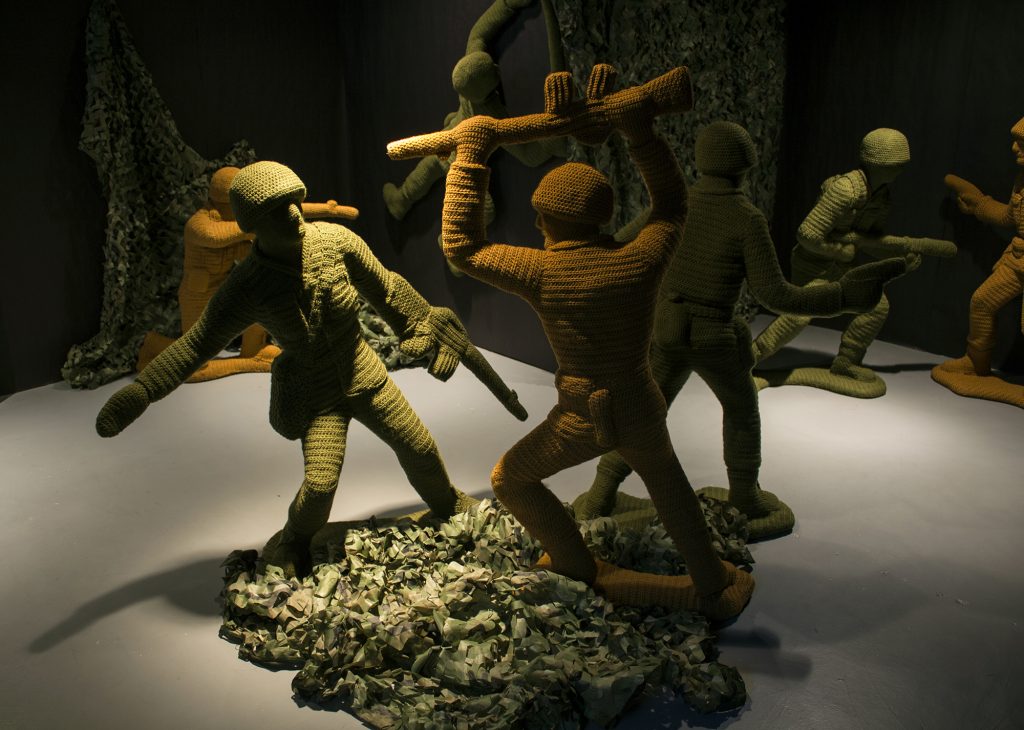 As part of their year-end roundup, contemporary art magazine Art and Cake compiled a list of the most memorable shows of 2018 — included on that list is Nathan Vincent's solo show, Let's Play War!, by staff writer Patrick Quinn. Also mentioned were offerings from heavy hitters in the Los Angeles art scene like LACMA, The Getty Museum, Tanya Bonakdar Gallery, and Hauser and Wirth. You can see some of the other shows that made the best of 2018 here. You can read Quinn's original review here.
---
FEB. 3, 2017
Hexon/Hexoff Features Eight Contemporary Artists Whose Work Brings Relevancy to the Ancient Mysticism
Contact: Sean Noyce, sean@seannoyce.com
Hexon/Hexoff is a multidisciplinary exhibition that draws parallels between the practices of art and magic. Although not intrinsically an "occult show", Hexon/Hexoff brings relevancy to mystical objects in the secular art world. The work manifests portals to the most instinctual layers of the artists' psyche, while providing a source of power and strength in this current political climate.
For more information about the show, please see our press release.
All images are subject to copyright. Gallery or artist approval must be granted prior to reproduction.
---
Hexon/Hexoff

Noysky Projects
6727 ⅞ Hollywood Blvd.
Los Angeles, CA

– April 1, 2017
Reception: Saturday, March 4. 6-9pm
---
NOV. 27, 2016
"The Origin of Species is a Small Show in a Tiny Space, but the Artworks Displayed Here Deserve Attention," Says LA Weekly
Catherine Womack of LA Weekly recently reviewed our latest show, "The Origin of Species", broadening the reach of one of our most important, timely shows to date. The main article can be found on their website, but here are a few excerpts from the article:
"Origin of Species" is a small show in a tiny space, but the artworks displayed here deserve attention. There are rich stories behind each of them, and they are stories that now, more than ever, must be seen, heard and absorbed.

Noysky Project's gallery is impossibly small. Yet somehow, in just under 300 square feet of space, Hermosillo has managed to organize a thoughtful, meaningful collection that explores the immigrant experience through socioeconomic identity, belongingness, language and labor.
Noysky Projects is the creative playground of artist couple Sean Noyce and Katya Usvitsky, who use the space as a studio between shows. It's a unique location.
---
NOV. 4, 2016
The Origin of Species opens with huge fanfare, press coverage from the Los Angeles Times, LAist, among others
The attendance for the opening of "The Origin of Species", a multi-discipinary show, curated by Marco Hermosillo, was one of the most robust in recent memory. With nearly 120 people RSVPing, attendees came from as far away as Mexico to see the opening an support these LA-based artists. Below are some images from the opening:
Additionally, Noysky Projects was fortunate to receive some great press coverage for "The Origin of Species", with mentions from the Los Angeles Times in their weekly best of Datebook roundup; LAist in their "20 Best Things to Do This Weekend", as well as mentions in CurateLA, among others.
FROM THE LOS ANGELES TIMES

FROM LAIST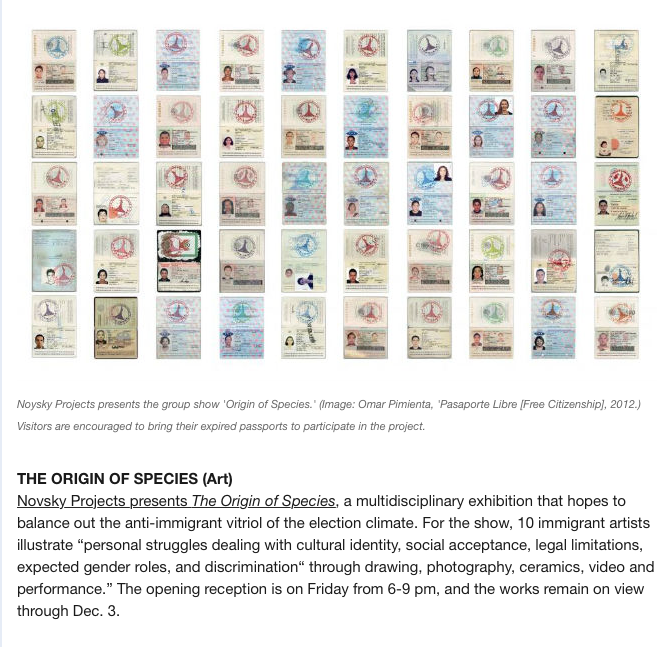 ---
OCT. 13, 2016
Ten immigrant artists share their personal experiences in 'The Origin of Species,' an interdisciplinary art show
In the current political climate, immigration has been a controversial and often misrepresented issue. The concept of immigration remains a label used to describe the others. In political demagoguery, immigration has been reduced to statistics, economic threats, and Manichean stereotypes. Immigrants have become a rhetorical tool used by politicians in order to gain popularity among American voters.  Yet these definitions are limited, and fail to capture the sensible human experience of immigrants; their voices are completely muted in these public debates. Immigrants are relegated to the shadows, forced to submit to the whims of those in power.
In response to this, "The Origin of Species" connects individual anecdotes of ten immigrant artists, weaving them into a collective voice that reclaims the human struggle behind the immigrant experience. The exhibit takes an alternative perspective on a phenomenon that is rarely explored in Los Angeles art scene. Through drawing, photography, ceramics, video, and performance, the exhibition illustrates personal struggles dealing with cultural identity, social acceptance, legal limitations, expected gender roles, and discrimination. "The Origin of Species" attests to immigrants reclaiming their right to represent themselves and their stories.
The work of these artists will come together in a gallery space that is itself the result of a collaboration between a native and an immigrant—artists Sean Noyce and Katya Usvitsky.
Artists: Melika Abikenari (Iran); Damir Avdagic (Bosnia/Norway); Jackie Castillo (Mexico/USA); Saba Hakimi(Iran); Beliz Iristay (Turkey); Shoshi Kanokohata (Japan); Omar Pimienta (Mexico); Marisol Rendón (Colombia);Eunhae Grace Yoo (South Korea); Barak Zemer (Israel)
Curator: Marco Hermosillo (Mexico)
Associate Curator: Lili Abdel-Ghany
All images are subject to copyright. Gallery or artist approval must be granted prior to reproduction.
---
The Origin of Species

Noysky Projects
6727 ⅞ Hollywood Blvd.
Los Angeles, CA

– Dec
Reception: Friday, Nov. 4. 6-9pm
---
DEC. 28, 2015
'Thunder in Our Hearts' Features Small Work at the Intersection of Sound, Video, Performance, and Installation
Contact: Ginger Shulick, gshulick@bigdealarts.com
Noysky Projects  is pleased to present "Thunder in our Hearts"– a multimedia exhibition organized by San Diego—based curator and museum director Ginger Shulick Porcella. Comprised by the work of 25 artists working primarily in Southern California/Baja, the show opens January 30, 2016 and runs through February 28, 2016.
Ginger Shulick Porcella  is currently the Executive Director for the San Diego Art Institute, the only contemporary art museum in Balboa Park, dedicated to the work of artists living in Southern California/Baja. Porcella is a Curator with Artist Pension Trust (APT Global) and has curated exhibitions for galleries and museums across the U.S. including: "LUMEN", an international video and performance art festival (Founder and Head Curator 2010 and 2011); "Ivory Tower", a video exhibition concurrent with Art Basel Miami Beach 2011; "The Typhoon Continues and So Do You" at Flux Factory; "The Sixth Sense and Other Myths" at NYC Industries for the Blind; the criticallyacclaimed "Future/Past" at REVERSE Gallery in NYC; and most recently "Beyond Limits: Postglobal Mediations" and "Women's Work: Masculinity and Gender in Contemporary Fiber Art" at the San Diego Art Institute. Porcella's exhibitions have been positively reviewed in The New York Times and USA Today, and her  work has been featured in Hyperallergic, creem magazine, The L.A. Times, and Modern Painters.
"Thunder in Our Hearts" is a small-works show featuring the work of Southern California artists working at the intersection of sound, video, performance, and installation. Taking its title from "Running up that Hill" by Kate Bush, the exhibition focuses on tiny works with large impact, small gestures, intimacy, coldness, brief connections, lights, flickers, and tones. Participating artists include: Robert Andrade, Banrei, Brian Benfer, Cindy Santos Bravo, Einar & Jamex de la Torre, Don Edler, Dave Ghilarducci, Brian Goeltzenleuchter, Marina Grize, Gordon Holden, Debby & Larry Kline, Davin Kyle Knight, Alex Kohnke, Angele Lebert, Nicholas Lesley, Omar Lopex, Justin Manor, Carolina Montejo, Margaret Noble, Sean Noyce, Don Porcella, Jason Sherry, Ali Silverstein, Suzanne Thorpe, Katya Usvitsky, and Perry Vasquez.
All images are subject to copyright. Gallery or artist approval must be granted prior to reproduction.
---
Thunder in Our Hearts

Noysky Projects
6727 ⅞ Hollywood Blvd.
Los Angeles, CA

– Feb
Reception: Saturday, Jan. 30. 6-9pm
---
SEPT. 25, 2015
Noyce's 'Where the Two Meet' is a Hybrid of Traditional and New Media
Noysky Projects is pleased to present Where the Two Meet, an exhibition of drawings and new media works by Sean Noyce that explores themes associated with organic growth. The large format pastel drawings are an extension of his recent digital paintings that draw parallels between geoscience and programming.
During the process of programming, Noyce writes abstract strings of code that bring life to the program. The same logic is applied to the pastel drawings, where he creates organic shapes that resemble veins, rivers and cells, as well as man-made ones that mimic streets, polygons and cables. Eventually the organic and man-made shapes build upon one another, coexisting harmoniously while bringing life to the drawings.
Noyce is drawn to the grimy, tactile quality of pastels, which allow for some malleability of the medium and randomness that compliments the straightforward logic of the computer. To add to their unpredictability, the drawings are often rotated midway through their creation, effectively destroying any preconceived notions of their direction.
Many of the works from Where the Two Meet are based on the likenesses of our most canonized figures: celebrities. By abstracting the forms of public figures, a sense of personified familiarity can emerge while illuminating many of the underlying patterns in the natural world.
---
Where the Two Meet

Noysky Projects
6727 ⅞ Hollywood Blvd.
Los Angeles, CA

–
Artist's reception: Saturday, Oct. 10. 6-9pm
---
SEPT. 14, 2015
Usvitsky in International Exhibition Exploring Gender Roles in Fiber Art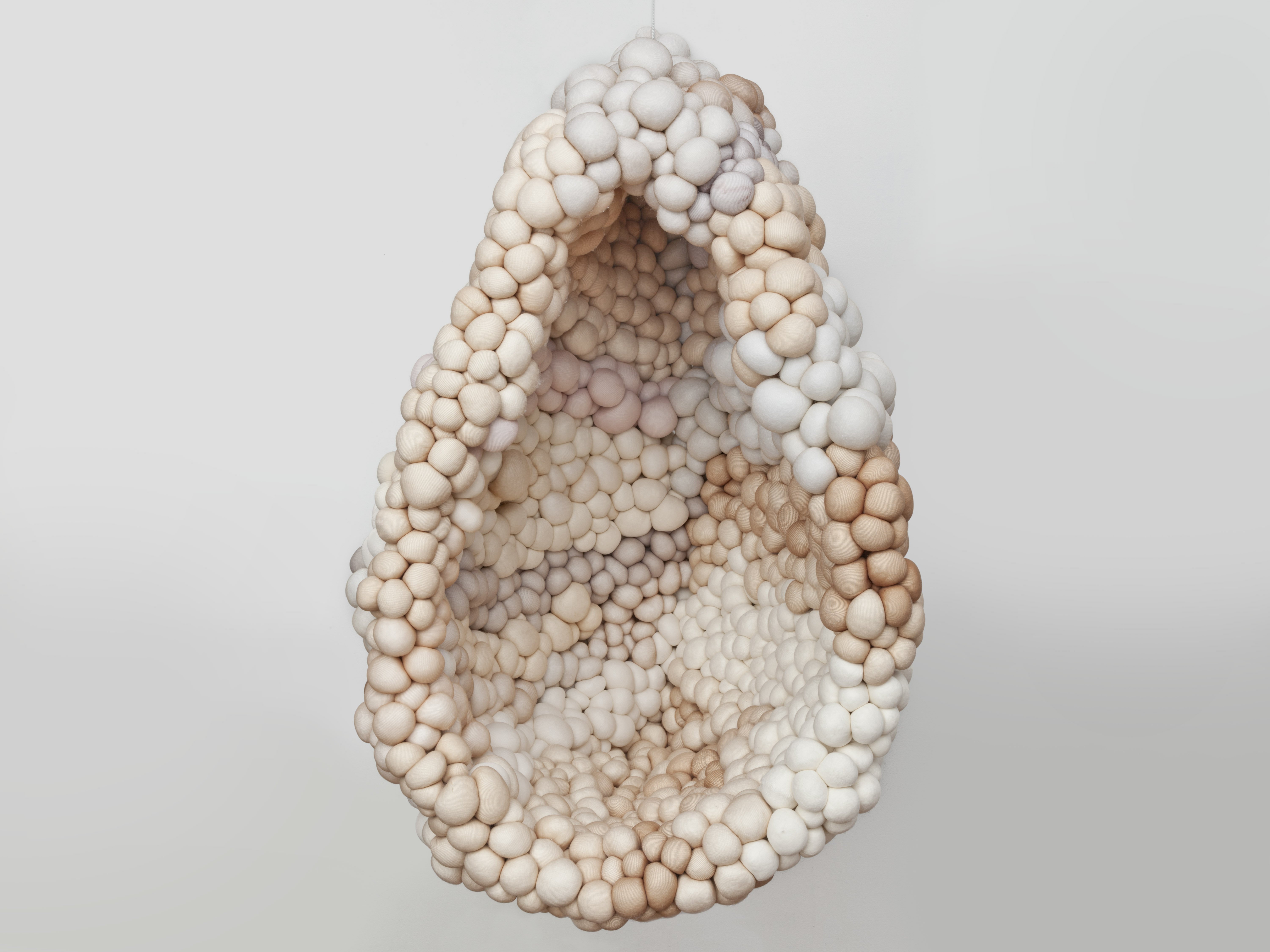 Noysky Projects is pleased to announce the exhibition of Katya Usvitsky's sculptures in "Women's Work"—an international exhibition that calls for a reexamination of traditional gender stereotypes, curated by San Diego Art Institute's Executive Director Ginger Shulick Porcella. The show includes powerful images evoking and informing psychological experiences of both the artists and viewers. The artists included in this program employ a variety of techniques regarded as traditional and domestic, such as embroidery and crochet, using craft materials to address cultural and gender issues in a complex intersection of artistic practices, popular culture, and aesthetic splendor. The exhibition includes artists using unexpected materials—such as discarded clothing, pipe cleaners, and even human skin—to show the range of fiber materials incorporated into contemporary craft.
Porcella received a curatorial grant from NYC-based ISE Cultural Foundation to produce this exhibition, which includes many artists living on the San Diego/Tijuana border. Projects in the exhibition include Katia Sepulveda's work about the trans-feminist call for a destruction of the sex and gender binomial, while works such as Kris Grey's "Gender/Power" documents his transition from female to male. Denmark-based Rose Eken creates a series of embroidered images about Rock 'n Roll culture, such as records, drum kits, and set lists from bands like Metallica and Ozzy Osbourn, while NYC-based Jacob Rhodes invents his own subculture of skinheads in a detailed examination of codes of masculinity and punk rock culture.
Participating artists include: Blanka Amezkua, Laura Blanco, Caroline Wells Chandler, Sheena Rae Dowling, Robert Dupree, Rose Eken, Ashley Gibbons, James Gilbert, Kris Grey, Paddy Hartley, Don Porcella, Jacob Rhodes, Katia Sepulveda, Katya Usvitsky, Nathan Vincent, and David Willburn.
---
Women's Work: Masculinity and Gender in Contemporary Fiber Art

San Diego Art Institute
1439 El Prado
San Diego, CA, 92101
---
AUG. 29, 2015
Noyce Exhibits Digital Work at the San Diego Art Institute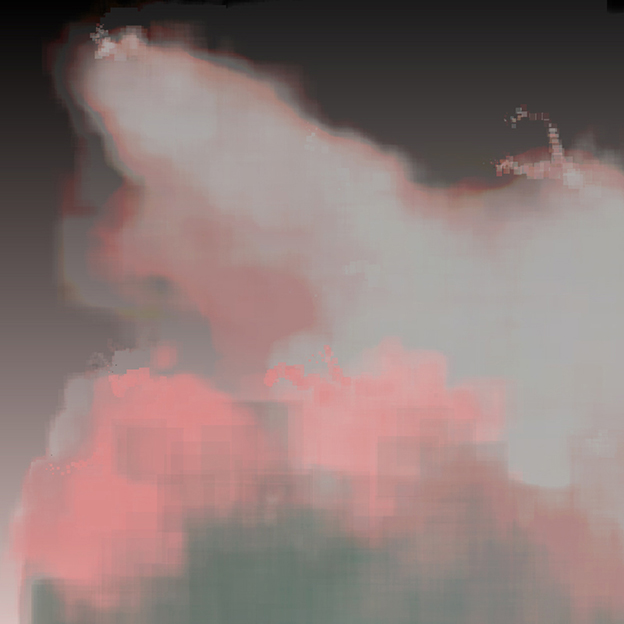 Noysky Projects is pleased to announce Sean Noyce's selection in Ephemeral Objects at the San Diego Art Institute in Balboa Park. The generative interactive piece, "Heat", is paired with like-minded tech-based artists from the Southern California region, whose work explores the burgeoning mediums of software/algorithmic art, sound art, video art, real time and dynamic data visualization, social sculpture and time-based art. The exhibit was organized by SDAI's Curator-in-residence, Andrew Horowitz, a Warhol Foundation Arts Writers Grant recipient.
Participating artists include: Trevor Amery, Banrei, Cooper Baker, Renae Barnard, Sheldon Brown, Lana Z. Caplan, Larry Caveney, Andrea Chung, Francisco Eme, Richard Gleaves, Yelena Gluzman in collaboration with Jen Hofer and Eric Leonardis,Vijay Hingorani, Rich Jones, Tara Knight, Bonnie Lander in collaboration with Brendan Nguyen and Adam Tinkle, Nick Lesley, Xareni Lizarraga, Whitney Lynn, Max Nanis, Margaret Noble, Sean Noyce, Celeste Oram, Micah Silver, Marinta and André Skupin, sosolimited, Suzanne Thorpe, Chris Warren, Shannon Willis, Shahrokh Yadegari and Kathryn Zazenski
A big thank you to Andy Horowitz for including me in the show, Ginger Shulick Porcella for being the artists' patron saint, friends Channing Sargent and Rachel Mooradian for their support, and of course, Katya <3
---
Ephemeral Objects
San Diego Art Institute
1439 El Prado
San Diego, CA, 92101
–
---
Some snaps from the exhibition:
---
JULY 7, 2015
What's in a Name?
Developing a name for any artistic work, business, or other creative endeavor is always a difficult proposition. It should be memorable, simple and straightforward, while also resonating with your core audience.
Katya and I wavered between many different options — some were silly (Chomp Space), some were absurd (Ceci N'est Pas Une Galerie), while others just sounded like a hipster boutique (Hex & Thread). All of them were personal on some level, but few actually offered any insight into what we were as an institution. We ultimately landed on Noysky Projects due to the personal association with the name (Noy = Noyce; sky = Usvitsky), and the versatility of the word "Projects", which works as both an artists' atelier and an exhibition space.
Once we decided on a name, designing a logo was easy — we kept it simple, versatile, modern, and stylish. Despite a minor hiccup with the printer, who failed to notice the defaulted font, the logo printed nicely on canvas and hangs proudly above our doorway.
It's an exciting time to establish an alternative space in the midst of the burgeoning Hollywood arts district — just a few blocks from blue chip spaces like LACE, Kohn Gallery, Regen Projects, and Steve Turner, as well as up-and-coming spaces like Various Small Fires and LAM Gallery.